We're still not sure how we feel about Miley Cyrus and Cody Simpson but they both deserve love.
Our team today addressed the issue that Aussie sweetheart Cody looks a little reptilian but that's neither here nor there.
We're getting distracted, stay on track!
Cody uploaded a photo of himself in the studio with the caption "I love my job", but it's Miley's comment right under this that has caused a stir!
"Where's the screenshot of me flashing my boobies while you record?" alongside a little advice about pitch for anyone thinking of starting a singing career.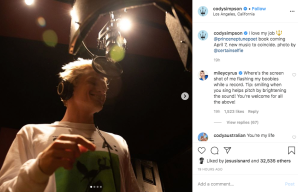 That is actually somewhat wholesome and cute, I mean they're dating!
We should all be flashing our boobies to our partners to make them smile!
Missed Mike E & Emma this morning? Catch up by clicking play below!