By Ryan Atkins
Halsey is a straight up savage and we LOVE HER FOR IT!
In a video that has since gone viral, the "Nightmare" singer did not hold back when a random troll in the audience of her pre-Super Bowl show in Miami kept yelling out the name of her ex, G-Eazy.
Halsey was quick to roast the heckler, "if they say G-Eazy one more f***ing time, I will kick you out this building".
halsey went off and didn't give a fuck pic.twitter.com/sBSRoC7OIv

— yari ⛓ (@yvritza) February 2, 2020
Halsey and G-Eazy broke up in October 2018 after having an up-and-down relationship, so no one can blame her for going nuclear.
Who wants to be reminded about their stupid ex? Particularly when you're performing in front of a crowd trying to put on a show?
NO THANKS.
Halsey received huge applause from the crowd as she continued to dig the boot in, adding "I will kick your f***ing ass, test me".
The singer-songwriter is yet to explicitly comment on the event, however did add to this to her insta story: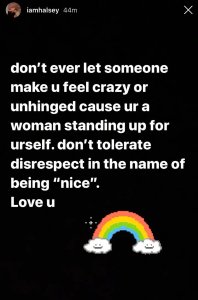 Halsey is like an empowering older sister for all of us and a legend for reminding her fans to stand up for themselves, particularly when someone tries to open old wounds.
To those people we say, like Halsey did: "you're not going to disrespect me like that at my own show".
Missed Mike E & Emma this morning? Catch up by clicking play below!