Jordyn Woods is travelling in the U.A.E with her family and damn girl, she's not afraid to spend that coin on what looks like the most luxurious trip ever.
However she's come under fire for posting photos of her and her family visiting the (INSANELY BEAUTIFUL AND MAJESTIC) Sheikh Zayed Grand Mosque in Abu Dhabi whilst wearing an abaya.
An abaya is defined by the Oxford Dictionary as "a full-length outer garment worn by some Muslim women".
It is often a requirement to wear one of these when visiting religious sites to protect women's modesty.
There were a few comments calling her out for 'mocking' the religion of Islam.
Wood hit back "I'm sorry if I offended you but in order to enter the mosque you have to wear an abaya… In no world would I try to mock another person nor culture."
In my opinion, I love that she visits another country and abides by their religious and cultural norms. So MAD respect Jordyn.
However she didn't wear the abaya correctly, you aren't supposed to show you hair!! Her fans didn't mind letting her know though.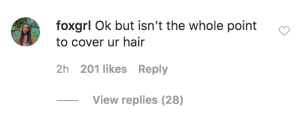 Missed Mike E & Emma this morning? Catch up by clicking play below!