Lil Yachty has a song called Oprah's Bank Account and the official music video was released on Tuesday and it's FUNNY.
He's dressed up like Oprah and is hosting a talk show called 'The Boprah Show'.
In the first 30 seconds he calls out Drake, the real Drake to come out and take the couch.
They proceed to have what looks like a delightful interview while Drake raps his bit and the studio audience falls in love with him.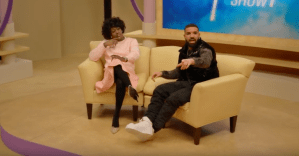 It's hilarious.
The entire video is 9 minutes long! And that's because 1 minute in there is literally an interview with Drake.
They stop pretending to talk and straight up start having an interview about Drake's beard, but Lil Yachty is dressed up as Oprah.
They are obviously a little self aware.
Lil Yachty asks Drake what he thinks about the new generation of rappers and mumble rap obviously referring to himself.
"I embrace it!..I love all the little ditties and all the little jingles on their "soundcloud"", he says condescendingly, obviously parodying himself for the video.
It's EXCELLENT.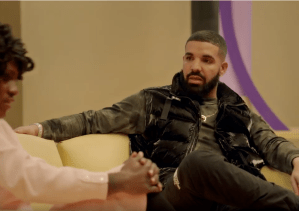 This sort of satirical interview goes on for a while, so here's a little taste.
Drake pretends to pronounce Lil Yachty's name wrong and diss his type of music.
"And at the forefront of music that should be forgotten about is Lil "Yacchy"… I think that guy is an absolute innovator of music that should never be referenced or heard by human beings again"
The interview goes on for 2 minutes and then cuts to Yatchy as himself in the Green Room getting nervously ready to go on The Boprah Show.
The rest of the video really is a rollercoaster that I encourage you to go on.
Check it out below!
Missed Mike E & Emma this morning? Catch up by clicking play below!