In the words of Chris Crocker: LEAVE LIZZO ALONE!
After being accused of plagiarizing lines from her hit single "Truth Hurts" not once, but twice, by two different musicians, Lizzo finally responded to the accusations on Twitter Wednesday (October 23).
Taking to social media platform, the "Juice" rapper explained her side of the story, denying that she stole the song from a previous demo she recorded, and explaining the origins of her famous line, "I just took a DNA test, turns out I'm 100 percent that b*tch," which she was accused of ripping from a tweet by British singer Mina Lioness:
Hey y'all… as I've shared before, in 2017, while working on a demo, I saw a meme that resonated with me, a meme that made me feel like 100% that b*tch. I sang that line in the demo, and I later used the line in Truth Hurts. The men who now claim a piece of Truth Hurts did not help me write any part of the song. They had nothing to do with the line or how I chose to sing it. There was no one in the room when I wrote Truth Hurts, except me, Rickey Reed, and my tears. That song is my life and its words are my truth. I later learned that a tweet inspired the meme. The creator of the tweet is the person I am sharing my success with… not these men. Period. Thank you to everyone who has supported me and my song. Xoxo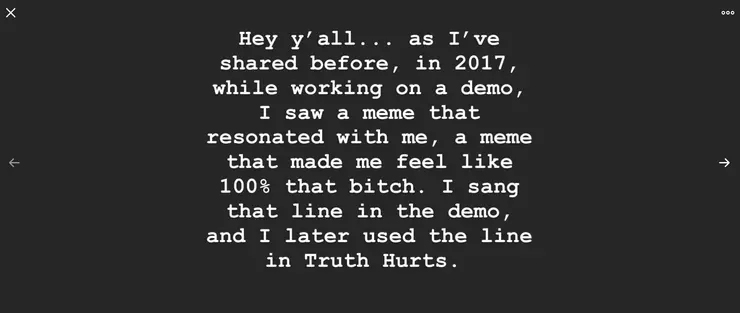 Earlier this month, songwriter and producer, Justin Raisen, posted a video to Instagram earlier this month in an effort to compare "Truth Hurts" to a single called "Healthy" that he allegedly wrote with Lizzo and other songwriters in 2017. In addition to claiming the songs shared the same melody, Justin posted a lengthy caption, detailing how he allegedly wrote "Truth Hurts"' famous line: "I just took a DNA test, turns out I'm 100 percent that b*tch."
"The Truth about 'Truth Hurts,'" he began. "On April 11th, 2017, we wrote a song called 'Healthy' w/ Lizzo, Jesse St John, and Yves Rothman at our studio. 'I just took a DNA test turns out I'm 100% that b*tch' was taken from "Healthy" and used in "Truth Hurts".
He added, "We were never contacted about being credited for the use of the parts of 'Healthy' (melody, lyrics, and chords) that appear in 'Truth Hurts'. After reaching out to Ricky Reed and Lizzo's team about fixing it, we put the song in dispute in 2017 when it came out. We've tried to sort this out quietly for the last two years, only asking for 5% each but were shutdown every time."
Justin went on to say that his Instagram post was his last resort to get the credit he believes he deserves and to relieve the alleged "emotional distress caused by this."
"The last thing we want to do is throw any negativity toward Lizzo's momentum and movement as a cultural figure," he continued. "If we believe in what she's preaching, believing in ourselves & our own voices is something we thought she'd understand."
The songwriter then brought up Mina, who first accused Lizzo of stealing portions of "Truth Hurts," citing her own February 2018 tweet — "I just took a DNA test, turns out I'm 100 percent that b*tch" — as proof.
"Shout out to the singer Mina Lioness ( @minalioness ) for tweeting 'I just did a DNA test turns out I'm 100% that b*tch'. A meme of that came up in our writing session & inspired the lyric and melody we wrote together," Justin alleged. "If Ricky and Lizzo's team decide to settle this dispute with us, we would like to share some of the proceeds with Mina for her influence on Healthy."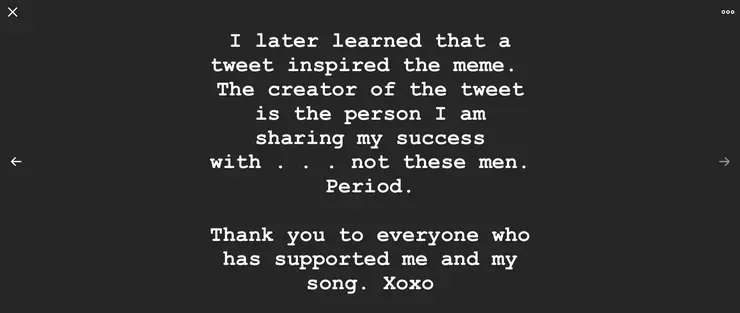 Feeling 100% in need of Lizzo? You can catch her music any time on her iHeartRadio Artist Station;
Article: Peyton Blakemore