Coronavirus is rocking the world and the recent increase of outbreaks has Mike E from The Edge 96.1 taking (some would say unnecessary) precautions with staff and guests of the show!
Mike E has requested the following sign be displayed on the Mike E & Emma studio door so guests can be pre-warned TO NOT PHYSICALLY TOUCH HIM!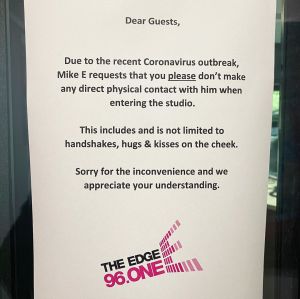 In the video you can see Mike E discussing with Emma that he doesn't want to shake MAFs stars Drew Brauer and KC Osborne because of coronavirus.
He just can't do it guys…
However because of the LACK OF ADEQUATE SIGNAGE AT THE TIME, Drew not only went in for a shake but a HUG and the hilariously uncomfortable footage shows Mike E almost squirming away.
So is the signage okay? Is it too diva-esque?
Listen to their full podcast below!
Missed Mike E & Emma this morning? Catch up by clicking play below!