You may care or you may not, but I personally put a lot of stocks in MAFS contestants Lizzie Sobinoff and Seb Guilhaus so I care.
They had the perfect happy ending after the show and seem to lift each other up in the most positive way.
So when they broke up earlier this year by posting simultaneous posts on Instagram with the same caption, "We have mutually decided to end our relationship as boyfriend and girlfriend. We want to thank everyone for the endless support we have received on our platforms."
But on Wednesday Seb posted a new photo of the couple with the caption "You don't need a label to have a connection."
Ummmm WHAT DOES THAT MEAN!!
They're hanging out, getting drinks together, taking romantic walks on the beach.
But 'no labels'.
Fans are also a little confused too.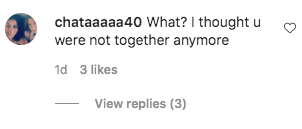 Fingers crossed they get back together, please and thank you.