It's not the first time that we've seen a note placed around a supermarket store letting customers know about the restrictions placed on purchasing toilet paper. But it's certainly the most bold note that we've seen!
An ALDI supermarket in Sydney's eastern suburbs has written a pretty savage note to people panic buying toilet paper amid the coronavirus outbreak and it's pretty darn hilarious if you ask us.
The note was placed in the discount store at Pacific Square in Maroubra, telling customers that restrictions have been placed on essential items like toilet paper to make sure that all customers have access to products.
"Please be aware that we are restricting the bulk purchases of essential items per customer, such as toilet paper," the note reads. "We want to ensure all customers have access to our products."
They then added a backhanded apology to anyone that this may inconvenience.
"We apologise if this act of courtesy is a disruption to your shop. Thank you"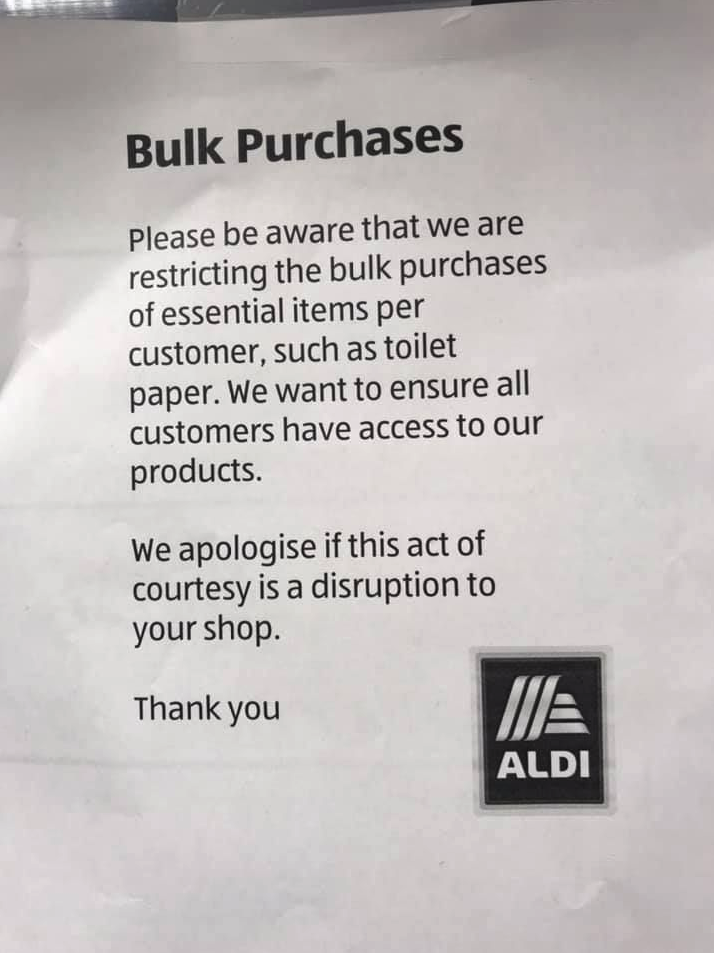 ALDI, you the real MVP. And others online agree with us.
"Love the little dig at the end to the [uncourteous] shoppers," said one person.
"Exactly what EVERY supermarket chain should be doing," said another.
"Brilliant Aldi, thank you," wrote a third person.
A spokesperson from ALDI told news.com.au that "the sign is across all stores and reflects the current sentiment of the brand".
ALDI currently has a restriction of one packet of toilet paper per customer to help make sure there is enough for all customers.